---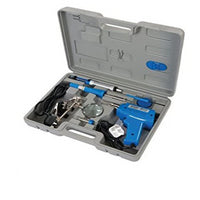 This 9 piece soldering kit is ideal for automotive, garage and home workshop use. This soldering kit comes with a carry case.
Specifications:
Soldering Gun
-Input Power: 100 Watt
-230 Volt
-Easy to use trigger operation
-3 soldering tips
Soldering Iron:
-Input Power: 30Watt
What you get:
-1 x 30w Soldering Iron
-1 x 100w Soldering gun
-Solder wire
-3 tips - 1 on gun
-Flux
-Iron stand
-Soldering Pump
-Scraper
-Magnifying
Advise: Whilst using the product take the correct safety measures, wearing the right protective gear.
Quick Dispatch From A Trusted Seller
All Quantities Are Approximate