---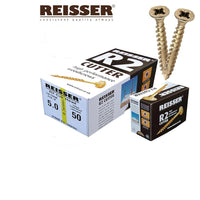 Reisser R2 Cutter Screws are the next generation in performance woodscrews.
Due to the TWO unique patented slots (25mm and above), the Cutter allows screwing close to the edge without splitting. Under the head are BOTH ribs and tucks enabling the screw to sit flush and tight without surface damage. With the ability to penetrate almost all timbers without a pilot hole, this really is a screw worth using!
FEATURES
Distinct Ribs and Tucks - Self countersinking into all timber and board materials. No need to counterbore.

Re-Enforced Collar - Prevents snapping AND gives depth for a wide, deep pozi to be inserted, therefore reducing the risk of "cam-out".

Lubricated, Sharp, Wide, Deep Thread - Up to 40% reduction in driving resistance therefore less torque required. Quick and easy penetration WITHOUT a pilot hole.

Yellow Tropicalized - Superior rust resistance than a standard BZP screw.

Two Patented Slots - Prevented splitting when screwing close to the edge with.

25 Degree Needle Point - Immediate start.
SAME DAY DISPATCH IF ORDERED
BEFORE 2PM MONDAY - FRIDAY