---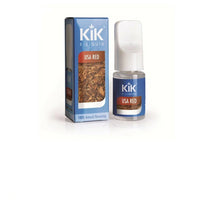 KiK 10ml E-Liquid Vape Juice
VG 20 PG 80 16mg Vaping Nicotine

This is a listing for 1 10ml bottle of the KiK E-Liquid range, which is specifically designed for the KiK Vape 01/02/03.
Each liquid is available in 16mg Nicotine level
All the liquids have a PG/VG Ratio of PG 80% and VG 20%
All are shrink-wrapped and tamper proof and have child proof safety caps for your peace of mind. (Some of our liquids may contain traces of nuts.)
USA Red
A unique and rich, all-American vaping experience. The USA Red E-Liquid harnesses the intense and authentic flavour of the classic USA Red cigarettes.