---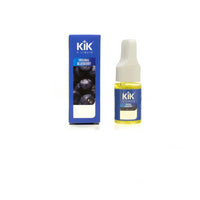 KiK 10ml E-Liquid Vape Juice
VG 20 PG 80 16mg Vaping Nicotine

This is a listing for 1 10ml bottle of the KiK E-Liquid range, which is specifically designed for the KiK Vape 01/02/03.
Each liquid is available in 16mg Nicotine level
All the liquids have a PG/VG Ratio of PG 80% and VG 20%
All are shrink-wrapped and tamper proof and have child proof safety caps for your peace of mind. (Some of our liquids may contain traces of nuts.)
Blueberry
The ultimate in fruity superfood, the blueberry is a deliciously sweet flavour that lends itself perfectly to the vaping experience.