---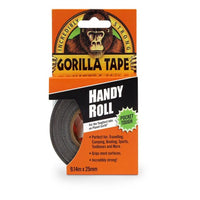 This rugged all-weather cloth tape is ideal for outdoor maintenance and repair work, as well as camping, fishing, and sporting uses.
Gorilla Tape's triple-layer construction is strong while still being easy to tear or cut.
The double adhesive layer gives this tape extra sticking power when placed on an uneven or porous surface.
This one-inch (25.4 mm) roll contains 30 feet (9 metres) of tape.