---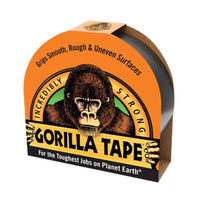 Gorilla Glue Black Tape 32m X 48mm Large Roll Incredibly Strong Duct Gaffer Tape.
Grips smooth, rough and uneven surfaces
The double thick adhesive, tough reinforced backing and rugged all weather shell make Gorilla Tape the top choice for your toughest jobs.
Gorilla Tape has taken duct tape to a new level. Gorilla Tape's toughness surpasses ordinary tapes, making the list of uses virtually endless. It sticks to rough and uneven surfaces that ordinary tapes can't hold, including wood, stone, stucco and brick.
Double-thick adhesive
Grips smooth, rough and uneven surfaces
Rugged, weather-resistant shell withstands moisture
Withstands UV rays and temperature extremes better than other tapes
Use both indoors and out
Can be torn by hand
Black backing
Size: 32 metres per roll x 48 mm width