---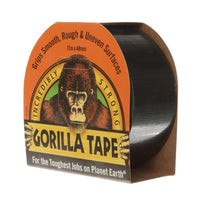 Gorilla Tape is an ultra tough cloth tape.
Made from 3 layers - a double thick adhesive layer, a strong reinforced backing and a tough all weather shell.
The double thick adhesive is a high quality adhesive that will allow the tape to stick to rough, porous and imperfect surfaces. 
The strong reinforced backing has a high fibre count cloth backing that gives high strength, but can be ripped easily by hand. 
The tough all weather shell gives a tighter barrier against moisture 
It has higher UV qualities than other cloth tapes on the market today.
Gorilla Tape strikes a delicate balance between strength and usability, providing the maximum amount of sticking power without sacrificing ease of use.
Gorilla Tape is suitable for contractors and DIYers
IDEAL FOR TOOLBOXES, DRAWS AND CUPBOARDS 
For sports enthusiasts and outdoor adventurers looking for a tough and portable tape to repair, patch or hold equipment while building and remodeling, landscaping, hunting, fishing, hiking, camping, boating, surfing or bicycling.
3 strong ingredients have made Gorilla Tape successful to work with. 
The combination of double thick adhesive, strong webbed backing and rugged all-weather shell make it one of the few all-purpose tapes to consistently stick to smooth surfacesThank you for looking, please visit my shop for more great offers.
48mm x 11m