---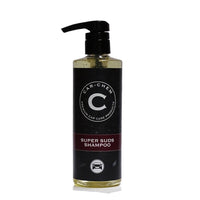 Car-Chem Super Suds Shampoo is our luxurious, high concentration car shampoo.
A must have for any detailer; professional and beginner alike. Not only is it highly concentrated at a dilution ratio of 1900:1 (you'll only need 12ml to clean an average sized car); but it is also high foaming and highly lubricating to prevent scratching your vehicles paintwork.
Specially formulated from our award-winning shampoo. We have put this product through vigorous testing to ensure it is fully compatible with all types of waxes, sealants and ceramic coatings so that you do not need to worry about last stage protection deterioration.
How To Use:
Add 4 pumps of Super Suds to 25L litres of warm water.
Ensure your entire vehicle is wet.
Using the 2 bucket method clean your vehicle work your way from the top to the bottom of your vehicle.
Give your vehicle a final rinse to remove all remaining suds.
Dry.
Top Tip:
For the best results use our Pre Soak Snowfoam before using to remove any excess dirt.